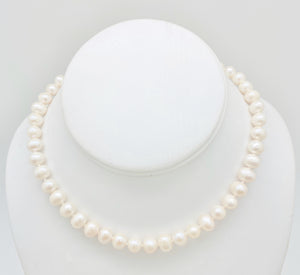 Beaded on a silk thread with a sterling silver clasp and extension chain, this necklace was designed to be worn by a princess. This hand-knotted freshwater pearl necklace adds the ultimate luxe touch to any outfit. 


✿ Our genuine freshwater pearls are natural and therefore unique in shape and texture. They will have naturally occurring imperfections that add to their personality.

✿ We suggest not bringing our handcrafted jewelry into contact with water or other elements in order to ensure its longevity.

・ 15" necklace with 2" extension chain

・ sterling silver clasp and extension chain
・ hand-knotted freshwater pearls on a silk thread
・ ~8mm pearls
・ Delivery time: 5-7 business days (US)